Description du programme
The International MBA is a one-year program held in Paris. The education is based on a broad array of disciplines, which will allow you to acquire a comprehensive range of management skills and an in-depth understanding of the global market place's dynamics. It is taught entirely in English by a team of educators with top international academic and business credentials.
Bimonthly Seminars: School and Work Experience Alternating
As a series of bimonthly seminars that take place from Thursday to Saturday, this structure allows students to take advantage of this end-of-the-week schedule to either continue working, start in a new field and undertake an internship, or to dedicate themselves fully to the teachings, assignments and learning demanded of the seminars. All IMBA students have the opportunity to spend a summer session at a trusted ISG partner institution, St. John's University in New York City.
ISG takes pride in attracting students from all over the world: the diversity of the class, nationalities, and backgrounds is what truly makes our MBA international.
Choosing an MBA that Suits Your Objectives
The ISG International School of Business MBA program is designed for:
Early and mid-career executives recognizing a personal need for more advanced, updated theoretical and practical background than their initial education provided them with.
Engineers, technicians, lawyers, and other professionals looking for career advancement requiring in-depth knowledge of high-level management.
University-trained people seeking a career change.
Young graduates with strong personal motivation.
Academic Background Of Our Students
Functions Of the MBA Alumni
The ISG alumni constitute one of the biggest networks of active graduates (19 600 professionals) of all French business schools. They are present on every continent in more than 100 countries and active in all business fields.
MBA Admission Graduate
Candidates to the ISG International MBA (graduate/MBA-program) must possess a post-secondary diploma and have significant professional experience.
Admission Requirements
Diploma requirements
Candidates must possess at least a bachelor's degree or other equivalent post-secondary diplomas. All higher education diplomas and transcripts must be submitted with the application.
Professional experience required
Candidates are expected to have acquired significant professional experience – this must be outlined on the CV. This generally consists of 3 to 5 years of in-company experience with positions of responsibility. GMAT® scores may be requested by the Admissions committee depending on other aspects of the file, especially professional experience.
Admission Procedure
Admissions are based on the application package and entry exam results:
Test Registration
Applicants to ISG must submit their application package with all required documentation at least two weeks before the examination date.
Eligible applicants are then invited to an interview.
Application package
The application must include:
The completed application form
A personal Statement (please write an essay describing your personal and professional objectives and what overall contributions you intend to add to the IMBA program)
Certified copies of your diplomas in English (if not in English or French, please provide official translation)
Certified copies of undergraduate studies: transcripts covering your 3 years of studies (if not in English or French, please provide official transcript)
TOEFL score (70IBT) or IELTS (5.5), TOEIC, Cambridge test, ITEP or equivalent. Not applicable for native English speakers.
2 letters of recommendation
English resume / CV
3 recent ID picture
Copy of passport or ID card
€80 application fee (non-refundable)
Incomplete applications will not be considered.
Mis à jour le Déc. 2019
À propos de l'établissement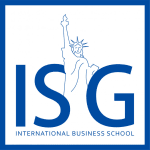 Since its founding in 1967, ISG has been developing a unique learning model based upon its strong identity and core values: Entrepreneurship Spirit, Creativity, Open-mindedness, Responsibility and Per ... Continuer
Since its founding in 1967, ISG has been developing a unique learning model based upon its strong identity and core values: Entrepreneurship Spirit, Creativity, Open-mindedness, Responsibility and Personal Development. ISG has a long record of educational innovation, using Anglo-Saxon methods of higher education and molding them to fit international needs. 22,000 graduates, including 3,000 students from the International programs, hold positions of authority in some of the largest multinational firms in over 60 countries. More than 60% of the graduates from the International Program have positions of international stature and 13% have created their own companies. The school is a member of the Association to Advance Collegiate Schools of Business (AACSB), CLADEA (Consejo Latinoamericano de Escuelas de Administración), the European Foundation for Management Development (EFMD), the Conference des Grandes Ecoles (CGE) and the Union des Grandes Ecoles Indépendantes (UGEI).
Réduire